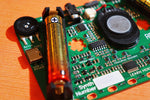 An Analog Synth for All
Flip over the Synth-a-Sette, and you'll see all the individual components used to create the circuit. No code or microprocessor… everything is analog. Whether you're just getting started with electronic music or are already an established synth-head, you'll get creative in new ways with this synth.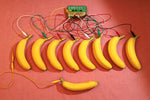 Make a Banana Keyboard!
While designing this synth, I made a discovery… When I connected the synth's touchpads to different conductive objects, I could play them like musical keys! I had so much fun with this, I decided to include alligator clips with each synth. Now you too can invent your own keyboard. Test the conductivity of different objects, learn what it means to complete a circuit, and design your own instrument. This synth is also a complete STEM learning project!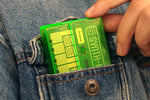 Easy to Play, Wherever You Are
Everything you need, in a cassette case! Just install the included AAA batteries and start playing. While this synth only has a 13 key keyboard, we also included an octave touchpad, which raises the note played up an octave, giving you easy access to two octaves of notes. You can turn on vibrato from a switch, and tune pitch and volume from the side knobs. Play melodies, wherever you go!
Pitch Range
Octave Keyboard with
"Octave Up" touchpad
Tone
Filtered Square Wave Tone
Vibrato Effect Switch
Tuning
Pitch and Volume
Adjust Thumbwheels
Audio
Built in 1W Speaker
Headphone Jack
Dimensions
4x2.6x0.5" or 100x60x13 mm
Weighs 2 oz. or 60 g
Power Supply
2xAAA Batteries (Included)
or USB-C Cable (Not Included)